SUMMER
FALL
WINTER
SPRING
SUMMER

Wake up to the call of an Adirondack Loon
Be lulled to sleep by owls conversing in the night
---
Begin the day with breakfast . . .
Fresh fruit and early morning sunshine served on our outdoor porch or inside at large oak banquet table (homebaked muffins, pancakes, or omelets for the hearty appetites)
Then Relax . . .
Take a gentle woodland walk around Sunday Pond -------- Or Choose . . .

From our doorstep you can explore the St. Regis Canoe Area** and surrounding forest preserve which offers over 120 continuous miles of lake and river routes. Being canoeists and kayakers ourselves we can recommend lakes and canoe routes, with or without portages, that match your skills and spirit of adventure.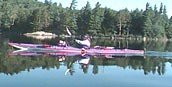 Hiking trails and canoe carries provide easy hiking in most areas. Enjoy flat hikes from our front door or four different mountain hikes within 15 min. drive.
Hike the High Peaks . . . (30 min. drive)
This area offers a challenge for everyone from the novice to the experienced hiker and rock climbers. Many of the mountains are well over 4,000 feet, some with very popular trails and others with seldom-visited spots in very remote locations.
| | |
| --- | --- |
| Enjoy the screened in porch if the bugs are biting | The front deck is an ideal spot to take in the sights and sounds of an Adirondack evening |
Dine With Casual Elegance . . .
Choose an entree from our complete
Sunday Pond Dinner Menu or visit
one of our fine area restaurants
For Overnight Camping . . .
Make Sunday Pond your base for a wilderness trip. Begin and end your trip with indoor conveniences - from a mountain breakfast to hot showers. For a list of Adirondack guide and rental services please contact us.
Also nearby . . .
State boat launch to Upper Saranac Lake - 1/2 mile.
Excellent 18 hole Saranac Inn Golf Course - 1/2 mile.
New York State fish hatchery - 1/2 mile.
Adirondack Airport - 5 miles.



**Tupperlake.net provides an excellent detailed canoe-camping map of the nearby Saint Regis Canoe Area, which you may obtain by clicking HERE. But be prepared for a very long download time as the map file size is approximately 1 meg.
FALL
Enjoy the peace of an Adirondack Fall
When the pure sounds of nature return

---

Crisp morning air and pleasantly comfortable days . . .

Start with a morning walk and a full Sunday Pond breakfast. Then explore the northern Adirondacks by canoe or kayak or climb the nearby hills or the not-too-far distant High Peaks. You may be surprised at the tranquility, if you had visited this area only in the summer months.

Late Fall .... a campers dream

When the state and private campgrounds close, excellent camp sites still remain for those who enjoy the combination of canoeing and tent camping. The nearby Saint Regis Canoe Area remains off limits to motor craft and the best wilderness sites are available. Launch areas are just minutes from the B&B. Should the weather turn uncomfortable, and you decide to terminate your campout prematurely, there is a very good chance that accommodations are available at Sunday Pond - providing you a hot shower and a spot next to the blazing hearth. If you then decide to rest and relax, and not drive to a downtown restaurant, you will generally have the option of ordering a light snack or a full course meal from our extensive menu selection.

WINTER
Trees crackling with the cold
Snow falling silently in the woods

---

Begin the day . . .

With candlelight breakfast by a cozy fire.

From our doorstep . . .

Cross country ski or snowshoe. Shaded forest trails in the area often have good snow conditions earlier and later than surrounding areas.

In Saranac Lake . . .

A favorite for visitors is the Saranac Lake Winter Festival, normally held in February. Enjoy the massive ice sculpture and fireworks.

Nearby . . .

Downhill ski:

Ice-skate:

Many opportunities include Olympic skating oval, community rinks and secluded ponds when weather permits.




Visit the Olympic Village of Lake Placid (25 min.)

Attend world-class events in Bobsled, Luge, Nordic and Alpine Skiing, 70 and 90 meter ski jumping, quaint shops and fine restaurants.

SPRING
Winter's ice is gone and Spring warmth returns
Come back to the Adirondacks and breathe the fresh air once again

Listen for that first call of the loon

---

Enjoy the beauty . . .

Over the years Sunday Pond B&B has proven to be a favorite lodging destination for visitors that enjoy the outdoors in all seasons. They especially appreciate the coming of spring as the unique season that it truly is. Mother Nature awakens from her long nap and celebrates new life with a glorious display of animal and plant life, and we are ideally located to witness it all.

Bring your fishing gear . . .

We would be happy to suggest lakes and streams where you should have the best chance of catching that trophy specimen. The actual pond named "Sunday Pond", a very short woodlands walk from the B&B, is well stocked with trout, so an early riser might be able to catch a beauty before returning for our famous Adirondack breakfast.

The fishing season opens on April 1 each year. For New York State licensing information CLICK HERE. We also provide Professional guide services, but suggest you indicate your need for these services when you make your initial deposit for your stay with us.

Welcome back campers and canoeists

Naturally we cannot guarantee that there won't be a light dusting of overnight snow on your car as you pack for your first spring canoeing adventure, nor can we always provide that balmy weather that you are entitled to as you dip that first paddle. But we can ensure that you are well fed as you leave with high spirits. (Also, we will be jealous that we did not decide to take a day or two off and follow you as you drove away towards the nearby launch point.)

[Tupperlake.net provides an excellent detailed canoe-camping map of the nearby Saint Regis Canoe Area, which you may obtain by clicking HERE. But be prepared for a very long download time as the map file size is approximately 1 meg.]